Hilo | Volcano | Volcano Park | Kilauea Iki | Chain of Craters | To Kailua | To Hawi | Near Kailua | Snorkel
---
These are pictures of our trip to the Big Island of Hawaii, September of 2014.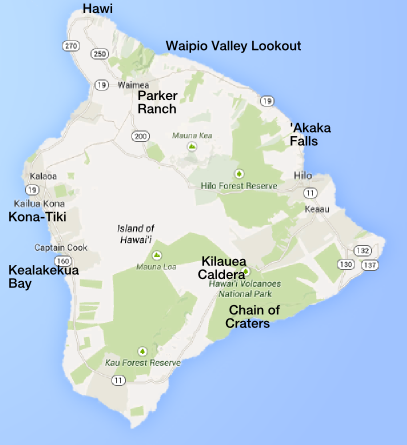 The map illustrates some of the highlights of the trip: the Waipio Overlook, 'Akaka Falls, Chain of Craters Road, the Parker Ranch, Hawi, the Kona-Tiki hotel, and the snorkeling adventure at Kealakekua Bay with transport provided by the Fair Wind II catamaran. We didn't get up to any observatories and doubtless there is much we didn't see; we'll just have to remedy that with another trip!
After flying from Oakland to Maui and catching a connecting flight, we landed in Hilo. We picked up our 'upgraded' vehicle (no charge): a Camero. We had trouble getting Joanna's suitcase through the small trunk opening, though it was possible if the suitcase was inverted so that the wheels were up.
It was a harbinger of discontent to come: the car was hard to get in and out of, had poor visibility, turned like a boat, and had enormous doors that required vigilance to keep from dinging adjacent parked cars. We do not recommend renting this car; if offered as an upgrade, decline it. That being said, if you want to go fast, look fast, and accelerate fast, this is the car for you. Sunglasses help.
Arrival

| | | |
| --- | --- | --- |
| Airport | Boarding on a Ramp | Rental Car Upgrade? Not! |
From the airport we drove to the nearby Hilo shore to an area set aside as a garden area after a tsunami destroyed that part of town. Following that we high-tailed it up to the town of Volcano for a few days to see steam, lava and craters.
Hilo Gardens

| | | |
| --- | --- | --- |
| Lilioukalani Garden | Plaque | Stone Bridge |
| Pretty Tree | Wooden Bridge | |