Hilo | Volcano | Volcano Park | Kilauea-Iki | Chain of Craters | To Kailua | To Hawi | Near Kailua | Snorkel
---
Although you can't go down into the large Kilauea caldera because of sulpher dioxide fumes, you can hike down and accross the smaller, nearby Kilauea Iki crater.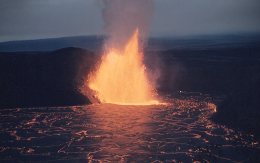 In 1959 there was a spectacular November eruption featuring a 1900ft. fountain of lava jet up at an angle; the floor of the crater became a lava lake (click on the image for a closer view). In the intervening years it has cooled enough to walk across, although there is still steam emitting from cracks.
The account of the eruption said that while a phenomenal amount of lava was thrown up, much of it drained back down into the magma chamber. Had it not, surely there would have been massive lava-flows covering the landscape outside of the caldera and the jungly rim trail would have been as desolate as the caldera below.
Kilauea Iki

| | | |
| --- | --- | --- |
| It Glowed Orange in 1959 | Mordor Vista | Blasted Plain |
| From the North Rim | North Rim Trail | North Rim Fern Unwinding |
| Ferns | Invasive Ginger | East Side, Looking South |
| Mouth of 1959 Fountain | Life | This Way |
| Crack Sinister | Life, Hunkered Down | Cracks |
| Looking East | Crater Fruit | Tough Fern |
| Lava Layering | Desolate Beauty | Looking East |
| Looking West | Rift | Lava Spatter |
| Steam Vent | Trekkers | Westerly View |
| Grasses following Cracks | The Way Out | Helping Out |