A Detailed Account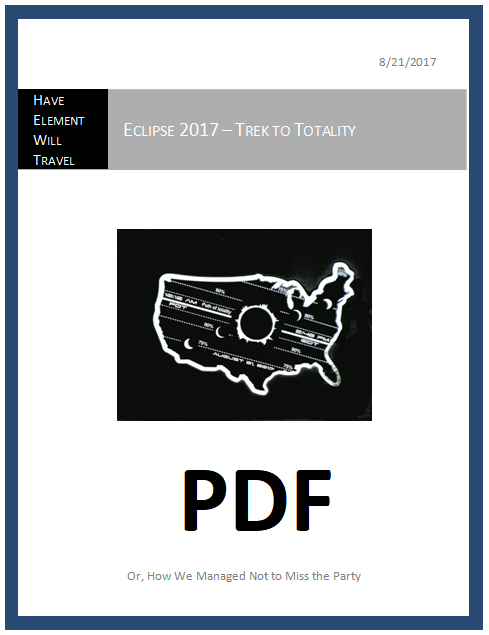 We drove to John Day, Oregon, to witness the Great American Eclipse. There were two minutes of totality and many knowledgeable people with high-end telescopes; quite a festival!
We were lucky that our friend found camping available for us at a very late date; the day before the event the Oregon State Parks unexpectedly opened up overflow areas. All we needed was a patch of dirt to make camp.
Clyde Holliday State Park regular campsites are much more appealing than the overflow area we stayed in. A stream runs along the southern edge, there are showers, and the rangers are friendly.
Dave, shown below, is an engineer who volunteered for the Citizen CATE project. This involved making a video of the eclipse and sending the footage to CATE where it would be combined with many other recordings made by volunteers all along the path of totality to make one 90 minute continuous presentation. He gave an eclipse talk at the campground the two nights leading up to the eclipse.
Clyde Holliday State Park

| | | | |
| --- | --- | --- | --- |
| Clyde Holliday Park | Close Call | Overflow Camping | Our Digs |
| Sign of the Times | The Big Picture | Really Good Info | Teepee |
| You can Rent It | Custom Tear Drop | Our Neighbors | Getting Ready |
| Dave Getting Ready | Fine Tuning | Set to View | Patriotic Fly-by |
---
Many people came in appropriate attire.
T-shirts on Parade

| | | |
| --- | --- | --- |
| Grant County T | Front | Back |
| Detail | Matching Set | |
The Beginning: Partial Eclipse

| | | |
| --- | --- | --- |
| Eclipse or Atomic Test? | Across the Road | Hat Pinhole |
| Space Alien Hand Shadow | Old 3 Eyes | Checking out the Partial |
| It's Coming | | |
---
Our colander was at least as popular as some of the very expensive telescopes near by.
Fun with Colanders

| | | |
| --- | --- | --- |
| Colander Art | Miriad 'o Pinholes | Closer to Totality |
---
Once the last bits of light disappeared from view behind the eclipse glasses I pulled them away and there it was: a black disk surrounded by a ghostly, unexpectedly asymmetric corona. It was stunning. I had an almost subliminal sense of enormous spheres in motion, slow in appearance but in reality monstrously fast. I strained to see earthshine on the dark side of the moon without success, then grabbed Aunt Pat's 7x50 night glasses. Still nothing definite so I tried to observe movement of the corona. If there, I didn't make it out and set the glasses aside.
The camera was handy and I thought give it one try, so I zoomed in with the telephoto and pressed the shutter, leaving it up to chance for the result. The camera emitted a series of 'red-eye' abatement flashes and made the exposure with a final flash. I set it down and looked back up at the wonder above, again trying to see corona motion. I swear I could make out tiny orangey bits here and there at the edge of disk. Power of suggestion or could I really make out the prominences? Real, I think. Regulus was visible outside the corona but I didn't spend time chasing down other stars and planets. I did take a glance around in the cool, dim, weird, shadowless, gray gloom; it wasn't like any kind of twilight I'd seen before.
When I looked up again at the eerie anomaly I began to get short of breath. I knew what was going on but this was unique to my experience and freaky. Understanding the cause of a total eclipse in the early 21st century doesn't negate the wonder of it; doesn't allay a vague feeling of dread. With little understanding of what a solar eclipse was, ancient peoples must have experienced mass panic during and after one.
All too soon the first bits of light peaked around the edge of the moon and it was over.
Wow!
Totality and Post-Totality

| | | |
| --- | --- | --- |
| Totality | Totality - Manipulated Closeup | She has Eclipse Flu |