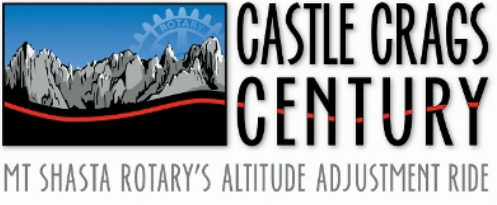 "Get a bicycle. You will certainly not regret it, if you live. " - Mark Twain
"Whenever I see an adult on a bicycle, I have hope for the human race." - H. G. Wells
Once a year or less, on average, I go on a supported bike ride. Sometimes I am disappointed but in this case the Castle Crags Century (I rode the 100k) was a great experience that I recommend to anyone that likes to climb hills.
This ride was at the tail-end of a trailer camping trip that looped through Oregon, first going to Ashland and then going to Bend and Sisters before returning south to Shasta City, California. We set up camp at the private Lake Siskiyou campground and went back into town, to find some WiFi to get the details about the Castle Crags bike ride. We found the city park where the ride registration was in progress, got officially processed, got the meal wristbands, glow-in-the-dark water bottle, map, directions, waiver, etc.
Start
The next morning I was up at 5:15 to get ready with a hoped-for start time of 6:30. I got rolling around 7:08 from the ride start and blithely told Joanna I'd be back from the 100k ride at 12:30. Then off I went, heading out of town on less-trafficked streets.
A number of people were ahead of me but I caught up with them at a railroad crossing where a long train was leaving Shasta City. When the gates went up we hung together for awhile but by the time we passed by Lake Siskiyou I was losing track of them, with the odd cheetah-on-wheels passing by sporadically. The road began to tip up towards the summit 3300 feet up from the low point near Lake Siskiyou. A very few riders were slower than I was, perhaps two or three of them, and I passed them by. The grade wasn't that steep in the lower parts of the climb and the road ran by a babbling creek — very scenic. Along the route were inspirational signs posted above orange, plastic road construction cones: quotes from notable bike riders and other folks. These signs appeared all along the course where there were sustained climbs.
Later on the climb a rider on a high-end bike pulled alongside and we struck up a conversation. Why somebody on a bike like that would slow down to chit-chat I don't know, but it made the climbing go by a lot faster. His bike had carbon-fiber wheels on it, very pricey stuff (each wheel cost more than my new bike) and not recommended for this ride because of 1) the roughness of the road in spots, and 2) the sustained steep grades on the Crags side of the ride. Carbon rims run hot when braking on long descents and are notorious for causing inner tubes to blow out. They have cork brake pads to help reduce the heat generated, but still . . . Anyway, this guy was admiring my disc brakes and saying he was considering getting a bike that had them.
U.N. Pep squad stop
We approached the first water stop. It was quite noisy and it appeared that the high school pep squad had turned out to cheer us on. They had about a dozen flags of various nations making a loud festive corridor. My ride partner said we should zip up our jerseys and look professional as we crossed the line. He sat up and crossed riding hands free, doing a victory salute, and I fired air pistols one hand at a time, à la Alberto Contador.
After a short Gatorade refill, along with cookies, potatoes, chips, and a piece of banana, I was off to the summit rest stop. My erstwhile companion quickly caught up and we nattered up the steeper pitches (a maximum of 10.6% in one spot). We parted as I suggested he do a search for 'Bike Monkey catch and release' for a funny YouTube video. Not too much farther we were greeted by another loud rest stop crew.
Bikers-of-a-different-stripe rest stop
I thought for a moment that the Mumbo Summit rest stop was staffed by Dykes on Bikes. All of the women in their 50's sported heavily inked forearms, leather vests, heavy boots, rough neck chains, and leather caps. Once I started grabbing munchies I noticed that the tattoos were identical and realized the cheerful volunteers were wearing pull-on sun-sleeves. I remarked on it, saying that I'd have to get some, and a staffer said that all of the crew were wearing long sleeve T-shirts with all of the biker regalia on them. Glancing at the prolific printed chest hair bursting from the top of the printed leather vests on the Ts, I said, "I'm so glad". It turned out they were all affiliated with a Catholic health care organization. The outfits were a bit out there for a church organization but Pope Francis would probably tell them to rock on and put on one of those Ts himself.
I ate pieces of potato and dabbed them in a plate full of pepper and salt, and replaced my not-so tasty energy drink with orange Gatorade. Cookies, chips, salty stuff . . . yummm! Bananas are a good source of potassium. I'm not a banana fan but this wasn't the place to be picky. It was warming up. I'd put on sun-sleeves (boring white) under a wind-breaker at the start and decided it wasn't cool enough to wear leg-warmers. It was a relatively good choice then, but now I doffed the jacket, folded it up, and put it in a jersey pocket. There was spray-on sunscreen and I spritzed my legs with it. While this was going on there was a loud pop, like a small-caliber hand-gun: somebody had a blowout. This didn't make sense: we had not been descending so it couldn't have been a hot rim causing it. We were at the highest point of the ride (6500 feet), and later I ran into the guy this happened to.
From there it was down the backside of the ridge. The road was narrow, rough, gravelly in parts, and steep in sections. There were signs posted warning about conditions ahead — gravel and pot-holes. The view to the west was grand and primitive, and the road felt very remote with not a human structure in sight. This is a magical route: scenic, narrow, steep, remote, lousy pavement. Life is good.
Ramshorn Road rest stop
There were some downs and ups, none very long, and finally I reached the halfway point at the Ramshorn Road rest stop. There was a guy manning the rest stop with a knit cap and knit ram horns on the sides. He reminded me of Tim, the sorcerer in the Monty Python and the Holy Grail flick ("That is not an ordinary rabbit ... 'tis the most foul cruel and bad-tempered thing you ever set eyes on."). There was another such hat modeled on a foam head; it was the Ramshorn stop after all. More Gatorade, banana, salty chips, cookies, all under shaded pop-up awnings. At this stop there was soy sauce to go with the potato chunks. More sun-screen on the legs. One rider set her shot-blocks (small cubes of energy gel) directly on the top of her top-tube; I didn't realize they were sticky enough to stay put on a bumpy descent.
I made sure to get my number noted by one of the rest-stop staff; the next section was the steepest part of the ride (nearly —15%) and rough, so if I didn't turn up at the next rest stop the organization would know where to look. A few more riders talked about disc brakes being an advantage for the next section. I set off and immediately started seeing warning signs posted on the side of the road warning of steep grades, pot-holes, gravel, and so on. The signs weren't kidding but the bike worked flawlessly; I would have had burning forearms from braking on my old bike. I had no company on the steepest part of the descent and this is a good thing. Just after the steepest sections the Castle Crags showed through gaps in the trees and I stopped with a number of riders to savor the view of the Yosemite-style white granite cliffs. After a bit I got rolling again. It was better pavement on a slope relaxed enough that it didn't require constant braking.
By and by a rider passed me and we stayed in contact for some time. As we got closer to a camping area he suddenly sat up and pointed to the right. Suddenly I saw it: a bear cub sitting up in the open woods! I whizzed by and caught up with the other rider who was sporting a light blue Crater Lake jersey. He remarked that he wondered where momma bear was, but by then we were long gone from the vicinity.
Very shortly I-5 appeared and we went to the other side via an underpass. The route meandered upstream along the river; now was the long march back to the barn. It was well-planned; although it wasn't the most direct way back the path ran through wooded areas so there was shade. At one point the route actually ran on the side of I-5, but it was only about 1/4 mile with cones to the left and a CHP on staff with blinking lights, so no problem.
Hawaiian theme rest stop
It was getting warmer. The next rest stop had a staff in grass skirts with all sorts of Hawaiian kitch, including a large plastic octopus on the table. Each rest stop had a theme. Why Hawaii at this one? Because the captain of this stop has a lot of Hawaiian doo-dads.
Something else they had at this stop was pickles and pickle-juice decanted into small cups; the chartreuse liquid looked like radioactive urine. "I've heard about this stuff" I said to a volunteer, and tossed one back. This is something supposed to help prevent cramps and I'd not tried it before. More Gatorade, chips, potatoes, cookies, then off.
Mott Road Rest Stop
More wiggling to the north, uphill, through the town of Dunsmuir, and then up through the trees. It was here that I started having some cramps in my left leg and had to stop and massage the muscles. It didn't seem that the pickle juice was working! After a bit I got going with some of the cramp still going on. There were a few stout, short climbs, and then a long, hot 5 or 6% grade with no wind up to the last rest stop. The Mott Road rest stop didn't have a theme and had a limited number of treats, but it did have something of great value: ice. In fact, one of the staff took my water bottle and filled it with ice. After downing a gel shot and replenishing the Gatorade I was good to go.
Immediately after that stop (and we were warned about it) there were a couple of short 'bottoms' that were steep and rough, but after that it was smoother - only 4 miles to go. Grinding on, I pulled into the city park finish at around 2:30 pm, two hours later than my prediction.
Finish
Joanna was waiting and had talked to the ride officials about my absence. I should have been more pessimistic about how long it would take (realistic?). I knew there were people behind me so I wasn't showing up at the rest stops as they closed; the Mott rest stop was still open at the time I finished. And, the century (100 mile) riders had a rest stop to the north that would stay open until 5 pm. Still, Joanna was a trooper, waiting for so long. We put the bike in the car and went down to the meal area where we each got a big burrito.
We found an empty picnic table in the sun and dragged it into the shade. In short order another ride joined us, followed by a couple of the staff. The other rider was the one whose inner tube burst at Mumbo Summit. He said he inflated his tires to 120 psi but it didn't make sense that the blowout happened when it did. Later it occurred to me that if he inflated to 120 psi at the start and then climbed 3000 feet to the summit the pressure in the tires would increase (less air pressure on the outside means the air on the inside can push out harder, right?). That's my theory, anyway.
And so, back to the campground: a shower, the Three River tall bottle of brew, the stew that Joanna made in the Dutch oven, and bed.