So they were left in the middle of Australia, Old Man Kangaroo and Yellow-Dog Dingo, and each said, 'That's your fault.'
What's New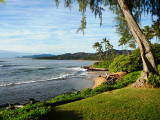 February 2018: We made a trip to Kaua'i for an early 30th anniversary. Our digs were on the eastern shore just south of Kapa'a; we made day trips north, south, and west for views of waterfalls, steep cliffs, turtles and seals on the sand, albatros whizzing by, a spouting horn, cliff jumpers, a luau, many sunrises over the water and a memorable sunset. Dramatic scenery everywhere; red earth, chickens and flowers galore.
More here...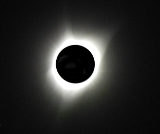 21-August-2017: We went up to John Day, Oregon, to witness 2 minutes of totality during the Great American Eclipse. Wow! Good company at the campground, park rangers were very friendly.
As the day of totality drew nearer we encountered thick smoke from many fires in northern California and southern Oregon, heard reports of gas shortages, reports of massive traffic jams, reports of problems with finding a place to observe the event; yowza! Many ways not to make it to totality.
More here...

5-June-2015: I went on a bike ride yesterday out to the west county as a training ride for an upcoming hilly cycling event near Mt. Shasta on June 20th. The unexpected happened but all turned out well; the result was an interesting adventure on Skaggs Road in west Sonoma County.
More here...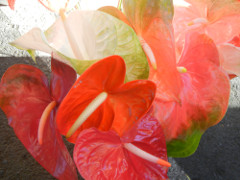 21-September-2014: We went to Hawaii for the first time ever: the Big Island.
After flying from Oakland to Maui and catching a connecting flight, we landed in Hilo. We picked up our 'upgraded' vehicle (no charge): a Camero. We saw a few sights, then high-tailed it up to the town of Volcano for a few days to see steam, lava and craters.
Following that we drove back down to Hilo, then north along the coast, over to Waimea, then south to Kailua, where we stayed for the remainder of the trip.
Here are the galleries.
5-October-2013: The store has a gear bank we can use for free: kayaks, standup paddleboards, cargo boxes that go on top of the car, stuff like that. A recent update has been the addition of more than a dozen GoPro waterproof video action cameras. Included are a number of mounts, but no bicycle mounts, and there is a shortage of memory chips. I bought said mount and an 8Gb micro chip (type 10) that provides a capacity of 33 minutes of video at 1080/24fps (Blue Ray format), and took the camera out for a spin.
Nearby Lichau Road is an out-and-back ride good for hill climb training. The pavement used to be really bad, but sections of it have been repaved. I took the camera up there and recorded the run back down. Turns out there is a GoPro promotion urging REI staff to use these cameras and post them; I'm doing that right now.
Below is the video: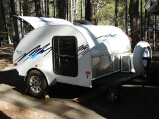 21-July-2013: added pictures from a camping trip to Donner Lake.

We took the Little Guy teardrop trailer on a car-camping trip to Donner Lake. Using that as a base of operations, we played around Donner Lake for a few days, riding our bikes, renting a canoe, going on walks, and (Joanna) swimming in the lake. We also made some day trips into Truckee and down to Lake Tahoe. We hiked the Rubicon Trail above Lake Tahoe, and took the tour of the Hellman mansion at Suger Pine State Park.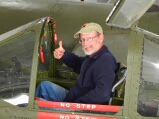 21-June-2012: added pictures of a trip to Hayfork and Oregon.

We went on a ten day trip to parts north, first going to Hayfork, CA, for a 100k bike ride in the hills of the Trinity Alps, then continuing on to Oregon. We camped at Silver Falls State Park, visited some relatives of Joanna's in Silverton, swung through Portland to visit family and friend, then to Astoria to visit other friend, then south to Tillamook to see the air museum, and finally to Ashland to visit friends and take in a play.

Below is a clip of South Falls, located in Silver Falls State Park, Oregon. Although you can't see any people on the path behind the falls, there are a few present.

31-Oct-2010: added Fear the Beard image.

Brian Wilson, one of the pitchers on the Giants team, dyed his beard some time ago to look like a twin of another pitcher on his team; he came up with a slogan, "Fear the Beard". It must have worked, because the Giants made it to the World Series.

Last Thursday was game #2, so I stopped by a Walgreens beforehand and asked if there was any temporary hair coloring I could use on my beard to show team solidarity. Yes, there was, so I when I got home with it I had Joanna blast away. The result wasn't as neat as I'd hoped: it makes me look more like a bum than a fan, and the coloring came off on my fingers every time I touched the Beard. I borrowed a Giants cap from Candi and the picture is the result.

Coloring the beard must have done something because the Giants won 9-0, the first shutout they've had in a World Series since 1954. And yes, the color did wash out with a single shower.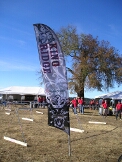 11-Oct-2010: added the Levi Leipheimer's Gran Fondo 2010 page. The pictures are of the King Ridge rest stop. We were visited by 3000 riders, but the area was large enough that it didn't feel too packed. Plenty of chairs for riders to hang out and take a breather. A helicopter, a ham radio station, a lemonade stand, Levi and Odessa, the media: it was a happening place. Beautiful weather.
29-Sep-2010: Helped Doug and Jake prepare the King Ridge rest stop for the Gran Fondo. Doug is featured in the YouTube video below, up a ladder weilding a chainsaw; there was a dead, hazardous tree limb that needed attention. Each time I replay it the cutting looks more dangerous; the far end of the branch is springy and pushes the heavy end at least six to eight feet (two to three meters) in Doug's general direction. Ladders and chainsaws: what a way to liven up a Sunday afternoon.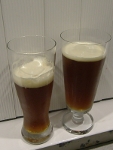 30-Nov-2009: added the Ale Brewing Redux - Tasting page; the finale for the first Dino vintage.
08-Nov-2009: added the Ale Brewing Redux - Bottling, Labeling page; further adventures in home brewing.
07-Oct-2009: added the Ale Brewing Redux page, an account of brewing beer at home.
05-Oct-2009: added the Gran Fondo 2009 gallery, an account of our experience supporting Levi Leipheimer's first annual Gran Fondo at the Goat Rock replenishment station.
14-Jun-2009: added the Galleries section and Wawona 2009 gallery, an account of our vacation in a cabin in the village of Wawona, which is set in Yosemite National Park.
13-May-2009: added a Combat page to the Trebuchet subweb.
6-Apr-2009: added a Project page to the Trebuchet subweb; added closeup images and notes on the construction of the War Weasel trubuchet to inspire weekend treb builders to make a water balloon flinging war machine.
4-Apr-2009: the blog now has some of the styling of tantaurus.net, so that it isn't too jarring to follow the Blog link on the main website to the WordPress blog page. The Atahualpa WordPress theme has a very handy editing capability so that it isn't hard to modify the header image, body background and text colors, and such.
1-Apr-2009: added embedded YouTube widget below. Note that it is feature-rich, with YouTube search, full-screen, replay, and so on. One annoying thing about it is that it fails W3C validation, but it works on FireFox, Chrome, and IE7. The intro video is a clip of extreme unicycling; jeepers - how much trouble can you get into with just one wheel? Answer: a lot.
You can search/switch to other YouTube video without leaving this site. Hey, how long have you been wasting time on YouTube?!?!! Come on! Get a life!
1-Apr-2009: added the map to the Marin Civic Center below; it uses the Google JavaScript map widget that is keyed to tantaurus.net (get your own map API key from Google, developers!). Click on the G o o g l e at the bottom left to get to directions and printouts. Pretty cool.
1-Apr-2009: added the Donate button below; be advised that any donations will only go into my recreational reading fund.
30-Mar-09: New page added - Blog. I got a free WordPress blog account through Sonic.net in order to see what it is all about. So far I've changed the scheme to something different than the rather plain Out-of-the-Box one that's supplied, added a Donations page with PayPal button, and a Donors Wall page (courtesy of a WordPress plugin).
21-Feb-09: New page added - Website Copilot. If you are a resident of Sonoma county and want some help setting up your own web page, check this out.
8-Feb-09: Update to Bottle Shock Extra page: what scenes I was in in the released movie! Ah, fame is so sweet . . .